By Kelly Kiakou
As the warmth of summer fades and the anticipation of September's arrival takes over, we find ourselves on the brink of new beginnings. It's a time to usher in fresh opportunities and embrace novel paths in life. For those who carry the coveted mantle of digital nomadism, with the unparalleled freedom to shape their work from any corner of the world, the world becomes their canvas. And in this pursuit of boundless horizons, Greece emerges as a beacon of promise.
Greece, a land steeped in history and culture, offers more than just a picturesque setting. It's an invitation to redefine the way we experience life, work, and adventure. With its diverse landscapes that range from azure coastlines to rolling hills and ancient ruins, the country's allure is undeniable. The climate, too, presents a mild embrace, making it an idyllic playground for those who seek a balance between work and leisure. As September beckons, Greece emerges as the perfect stage for a new chapter in the lives of digital nomads, a place where fresh journeys can unfold against a backdrop of beauty and inspiration.
With its newly introduced digital nomad visa in 2021, Greece is opening its doors to remote workers looking to immerse themselves in the Mediterranean lifestyle. In this guide, we'll walk you through the steps to navigate the Greek visa system as a digital nomad and enjoy all the perks it has to offer.
Greece's Digital Nomad Visa: A Gateway to a New Adventure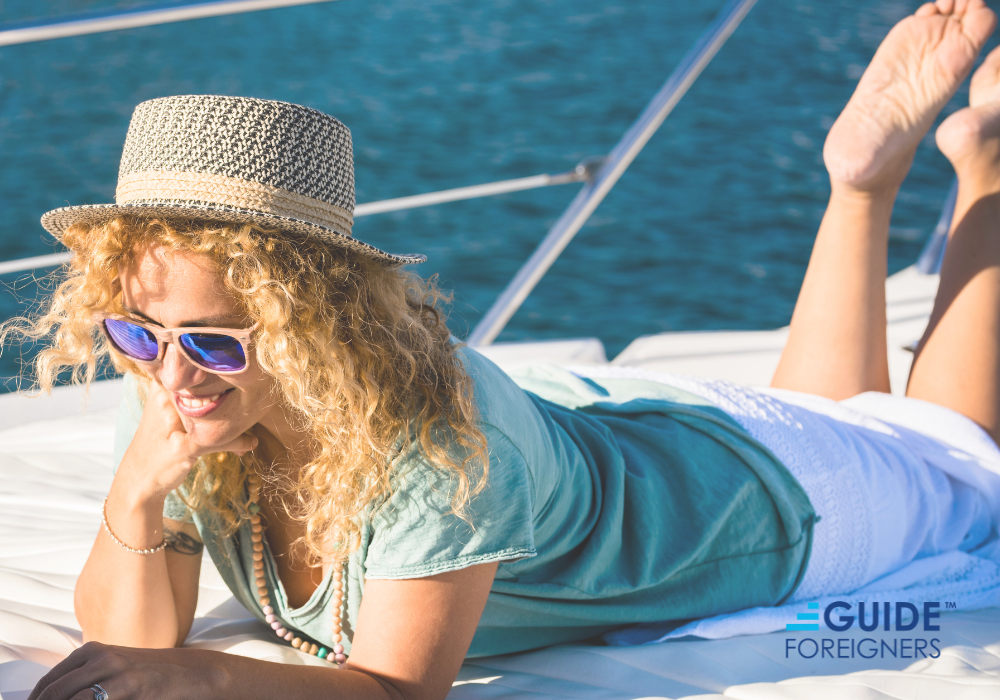 Introduced in the summer of 2021, Greece's digital nomad visa offers an opportunity for remote workers to reside in the country for one year, with an option to extend it to two years through a renewable residence permit. This visa not only allows you to explore historic sites and vibrant cities but also provides a path towards obtaining Greek citizenship.
One of the most enticing aspects of this visa is the tax exemption. If you're a digital nomad who doesn't engage in local economic activities, like buying property or a car, you won't be required to pay taxes in Greece, even if you stay in the country for more than 183 days in a year. However, if your goal is to achieve permanent residency or citizenship, you'll need to fulfill tax obligations.
Requirements for the Greece Digital Nomad Visa
To apply for the Greece digital nomad visa, you'll need to meet specific criteria. Here's a rundown of the essential requirements:
Valid Passport: Ensure your passport is valid for the entire duration of your visa.
Income Threshold:
You must have a minimum monthly income of 3,500€.
If bringing a spouse, the income requirement increases to 4,200€ per month.
For a spouse and one dependent, the requirement is 4,830€ per month.
Α 15% increase for each additional dependent.
Proof of Remote Work: You'll need to provide documentation demonstrating that you earn an income through remote work.
Proof of Income: Bank statements, employment contracts, or payslips should be submitted to prove that you meet the income requirement.
Clean Criminal Record: If applying from outside Greece, you'll need a certified copy of your criminal record from your home country.
Health Insurance: You must have health insurance coverage in Greece throughout your visa duration.
Certified Health Check: Obtain a medical certificate from a physician confirming your good health.
Accommodation Details: Provide the address of your intended residence in Greece.
Navigating the Application Process: Four Simple Steps
Applying for the Greek digital nomad visa or residence permit can be approached in two distinct ways. If you need an entry visa to Greece, you are required to initiate the process for the digital nomad visa from your current country of residence.
Conversely, if you have the privilege of entering Greece without the need for a visa (applicable to passport holders from countries like the USA, Canada, and Australia), you have the convenient option of directly applying for a two-year residence permit within Greece itself. This method is typically faster and more cost-effective, presenting an efficient pathway for digital nomads seeking to establish themselves in Greece.
Here's a step-by-step guide to help you through it:
Step 1: Gather Documents
Collect all necessary documents, including:
passport copies
passport photos
proof of remote work
proof of income
criminal background check
health insurance proof
medical certificate of good health
details of your Greek accommodation.
Step 2: Submit Application
Apply either in person or online through the nearest Greek consulate. Schedule an appointment using the online appointment system or by calling. There's a 75€ application fee and a 150€ administration fee to be paid.
Step 3: Await Approval
Within ten days of submission, you'll receive notification from the Greek Ministry of Migration and Asylum regarding the acceptance or rejection of your visa application.
Step 4: Register for a Residency Permit
Once approved, you can apply for a residency permit upon arrival in Greece. Visit the closest The Directorate of Migration Policy to submit your paperwork. The fee for the residence permit is 1,000€.
Final Considerations
You can choose between applying for the digital nomad visa in your country of origin or applying directly for a two-year residence permit upon arrival in Greece.
Digital nomads are exempt from local taxes in Greece as long as they don't engage in local economic activities.
Spend at least six months in Greece to maintain your visa eligibility.
The digital nomad visa is not renewable, but the residence permit is.
The path to permanent residency or citizenship is possible through a residence permit, but additional requirements must be fulfilled.
Seek Expert Assistance
While applying for the Greece digital nomad visa may seem manageable, the process of relocating to a new country can still be complex. To make your transition smoother, consider seeking assistance from professionals who specialize in immigration procedures, like Guide ForeignersTM.
Embark on your digital nomad journey in Greece, where history, culture, and stunning landscapes await. With its digital nomad visa, Greece is inviting you to experience the Mediterranean lifestyle while you work remotely and embrace new adventures.
Source: https://workfromgreece.gr/setting-up-in-greece/the-digital-nomad-visa-for-greece-who-is-eligible-and-how-to-get-one/