Are you planning to move to Greece and work there? Wise choice!
Welcome to your guide for working remotely in Greece. Practical information on setting up, including securing a Digital Nomad Visa, details of co-living and co-working spaces in cities, islands, and even mountain villages, and much more … it's all here to help you make that life-changing decision to work from Greece.
Become a Digital Nomad in Greece
Greece has a relatively low cost of living making it an affordable destination for digital nomads. It has a well-developed technology infrastructure and is well-known for its warm and sunny climate.
Ιt is important for digital nomads to research the specific requirements and regulations for living and working in Greece, including visa requirements and tax obligations, to ensure that they are able to legally and effectively establish themselves in the country. We are here to help with all of that! Read more info below and contact us if you need more!
Benefits of living in Greece
The Weather
The weather in Greece is generally Mediterranean and quite pleasant, with mild winters, hot summers and sunshine almost all year long!
Work-life balance
The Greek culture values hard work but there is a emphasis on taking time off for leisure and family activities and there are so many things to do for fun!
Cost of living
The cost of living in Greece is generally lower than in other Western European countries in terms of of housing, food, transportation, and entertainment.
People in Greece
The people of Greece are known for their warm hospitality and friendly demeanor. Greeks are also known for their love of food and enjoyment of good company.
Greek Culture
The country has a rich tradition of festivals and celebrations, and food plays a central role in many of these gatherings.
Greek Food
Greek Food is simply amazing! The Greek cuisine is known for its hearty, satisfying flavors, and it is a key part of the country's cultural heritage.
Things to do
Greece is a country with a rich cultural heritage as well as a breathtaking natural beauty, offering a wealth of activities and experiences.
Internet speeds
According to recent data, the average broadband internet speed in Greece is around 35 Mbps, which is comparable to the average speeds in Europe.
Longer daytime
Due to its location close to the Mediterranean and its proximity to the equator Greece has long hours of sunshine, especially during the summer months.
Discover our Destinations
Buy your Digital Nomad Kit Today
Bringing your Business to Greece
Why have a business presence in Greece?
Τhere are many tax incentives for income from wages and salaries as well as from business activity arising in Greece for individuals who transfer their tax residence to Greece like the following:
Exemption from income tax and from the special solidarity contribution of 50% of the income earned in Greece for 7 years.

Non-application of the annual objective expenditure for residence and private passenger car.
The incentives come into force under the following conditions:
The person concerned has not been a tax resident of Greece for the previous 7 out of 8 years prior to the transfer of his/her tax residence to Greece. 

He/she transfers his/her tax residence from an EU or EEA Member State or from a State with which an administrative cooperation agreement in the field of taxation with Greece is in force

Provides services in Greece within the framework of an employment relationship within the meaning of par. 2 of Article 12, exercised either in a domestic legal person or legal entity or in a permanent establishment of a foreign enterprise in Greece; and 

Declares that he/she will remain in Greece for at least two

years

.
There is also support from the government: The Greek government has been working to attract digital nomads and remote workers to the country, which can provide access to resources, networking opportunities, and other forms of support.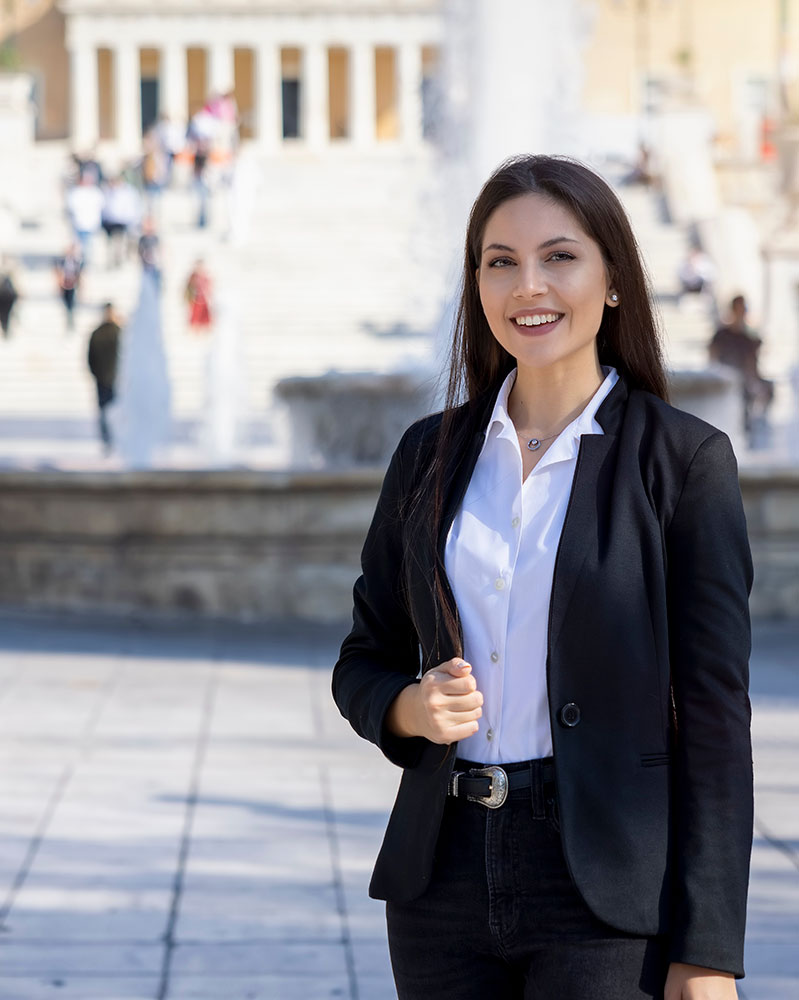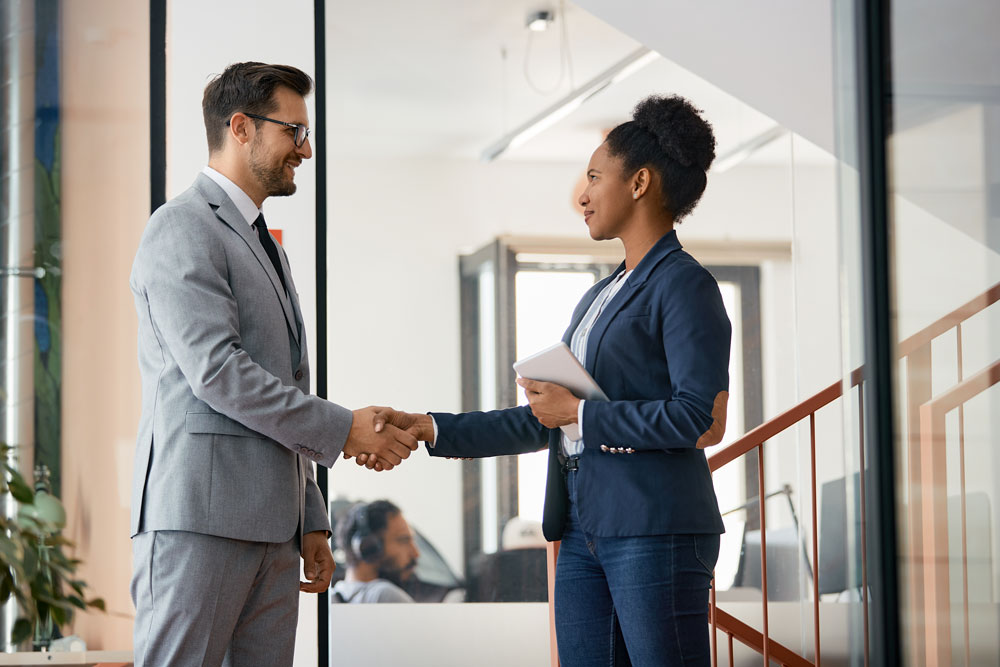 Setting up a company in Greece:
Greece is a member of the European Union

, which means that companies based in Greece have access to the EU market of over 500 million consumers. This can be beneficial for digital nomads who are looking to expand their business or access new markets.

Ease of starting a business:

Greece has made efforts to make it easier for digital nomads to start a business in the country, which can reduce the time and costs associated with setting up a company.
The furthest part
from the sea
Of sunshine a year
on average
Greece is a popular destination, offering a variety of dining and entertainment options for digital nomads. People are warm and friendly, the food is amazing, the rich cultural history is present all around and there are so many museums and historical sites worth visiting! Actually, there are more than 19 UNESCO World Heritage sites.
Greece is also an attractive destination, especially for those who enjoy outdoor activities and a Mediterranean lifestyle! There are numerous intriguing r activities to enjoy in Greece, and the country's varied landscape provides plenty of opportunities for adventure and exploration.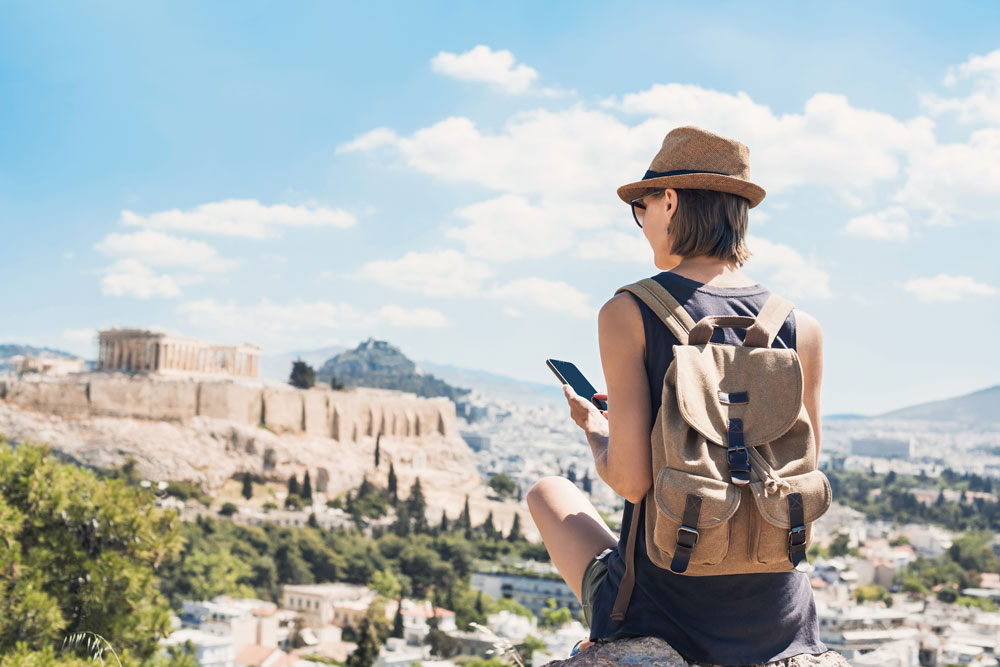 FAQs about working from Greece