Become a Digital Nomad in Athens
Live in a place close to the sea
Become a Digital Nomad in Athens, Greece
Athens is generally considered an affordable city, especially compared to other major European cities, well-connected to the rest of Europe and the world with a great climate, friendly people and so much to see and do. It can be a great option for digital nomads looking for a diverse and affordable European destination where they can thrive on social interaction and new experiences!
Let's see some benefits in detail
The climate
Athens has a Mediterranean climate with mild winters and hot summers, making it an ideal destination for those who enjoy warmer weather. The city also has plenty of sunny days throughout the year! If you love sunshine this is the place to be!
Cost of living
Compared to other major European cities, Athens is relatively affordable. This means that digital nomads can live comfortably while spending less money on rent, food, and other expenses.
Good internet infrastructure
Good internet infrastructure
Athens has a well-developed internet infrastructure, with many cafes, co-working spaces, and hotels offering high-speed internet.
Rich cultural heritage
Athens is a city steeped in history and culture, with many ancient ruins and museums to explore. Ideal for those who love history but it is also a source of inspiration and creativity, as well as an opportunity to learn and grow.
Good transportation
Athens has a well-developed transport system, including buses, trams, and a metro system. This makes it easy to get around the city and explore its many beautiful neighborhoods and attractions.
Amazing food and drink
Athens, and Greece in general, is famous for its delicious cuisine, including traditional Greek dishes like souvlaki, moussaka, tzatziki, and many more! But it's not only that! There are plenty of cafes, bars, and restaurants serving international and fusion cuisine, craft beers, local wines, and yummy cocktails.
Vibrant city life
Athens is a bustling city with lively nightlife, street art, and a variety of festivals and events throughout the year. Definitely a dynamic and stimulating environment for digital nomads who like to be active, meet people, and gain from new experiences, or... just have lots of fun!
A welcoming community
Greeks are known for their hospitality and warmth, and Athens is no exception.
Awesome beaches
Athens is located near the coast, with the Aegean Sea to the east and the Saronic Gulf to the south and west. This means that residents and visitors have access to beautiful beaches and seaside towns within easy reach of the city.
Digital Nomad Kits for Greece
Pay and take care of your needs as a Digital Nomad with our kit.
Pay and take care of your needs as a Digital Nomad with our kit.
Share your photos by using #guideforeigners
Athens

 

has

 

a

 

rich

 

history

 

and

 

culture,

 

and

 

there

 

are

 

many

 

things

 

to

 

see

 

and

 

do

 

for

 

visitors
and

 

residents

 

alike.
Whether

 

you're

 

interested

 

in

 

history,

 

culture,

 

outdoor

 

activities,
or
nightlife,
Athens
has
something for
everyone.
The Acropolis
One of the most famous ancient monuments in the world, and a
must-visit destination for anyone coming to Athens. The most significant and finest
sanctuary of ancient Athens, dedicated primarily to its patron, the goddess Athena,
dominates the center of the modern city from the rocky crag known as the Acropolis.
The Ancient Agora
The Ancient Agora was the heart of ancient Athens and was
home to the city's political and commercial activities. Visitors can explore the ruins of
the Agora, including the Temple of Hephaestus and the Stoa of Attalos.
The National Archaeological Museum
This museum is one of the most important archaeological museums in the world and home to an impressive collection of ancient artifacts, including sculptures, pottery, and jewelry.
Mount Lycabettus
This hill offers stunning views of Athens and the surrounding
area. Visitors can hike to the top or take a cable car, enjoy the view, or have a special
dinner at a restaurant/ bar at the summit.
Plaka
Plaka is the oldest and more intriguing neighborhood in Athens known for its
winding streets, charming shops, and traditional tavernas. Visitors can wander the
narrow alleyways and admire the historic architecture.
The National Garden
The National Garden is a beautiful green oasis in the heart of Athens, with winding paths, fountains, and statues. It's a great place to relax and
escape the hustle and bustle of the city.
Take a food tour
Athens is known for its delicious cuisine, and taking a food tour is a great way to sample some of the city's best dishes and learn about the local food culture.
Visit the beaches
There are so many beautiful beaches within easy reach of the city where you can swim, sunbathe, and enjoy water sports.
Go on a hike
Athens is also surrounded by hills and mountains, and there are many hiking trails near the city. Mount Lycabettus and Mount Hymettus are popular destinations for hiking and offer stunning views of the city and the surrounding area.
Attend a festival
Athens is home to many festivals throughout the year, including
the Athens Epidaurus Festival, the Athens International Film Festival, and the Athens
Technopolis Jazz Festival.
Available Kit to Establish a Company in Greece
Pay and establish your company easy and without a hassle.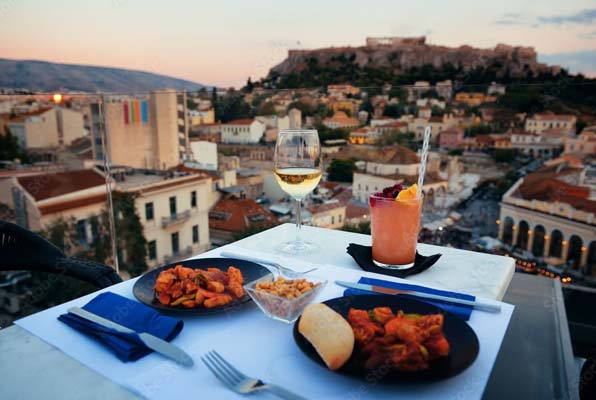 What we offer to our Partners in Athens
Greece offers a favorable business environment, offering several reasons why a digital nomad or a company might consider establishing a presence in Greece: 
10% discount on a number of places (bar restaurants, clubs, beach bars, discos, piano bars)
Quality-checked services (legal, rental, restaurants, etc.)
A Logo strip with each partner's logo and information.