Learn more about Crete
Crete is a beautiful and culturally rich destination that has everything you need to live and work comfortably
Become a Digital Nomad in Crete, Greece
Crete is the largest and most populous of the Greek islands, the 88th largest island in the world, and the fifth largest island in the Mediterranean Sea.
It is a beautiful and culturally rich destination that has everything you need to live and work comfortably plus a strong digital nomad community. As a digital nomad, you will enjoy the island's warm climate, beautiful beaches, and vibrant culture while working.
Let's see some benefits in detail
Warm Climate
Crete enjoys a Mediterranean climate with mild winters and hot summers, making it a great destination for remote workers who want to escape the cold and work in a warm and sunny environment.
Astonishing natural beauty
Astonishing natural beauty
Crete is known for its beautiful towns and villages as well as its amazing landscapes! The golden beaches with crystal-clear waters, the stunning mountains and gorges, and the cute picturesque places all around the island create the perfect setting to reduce stress and improve productivity.
Cost of living
Crete is a relatively affordable place to live, especially when compared to other European destinations. Accommodation, food, and transportation costs are reasonable, giving nomads the chance to enjoy a good life.
Amazing Cretan gastronomy
Amazing Cretan gastronomy
We can simply say that the food in Crete is divine! You will find mind-blowing Mediterranean flavors and traditional delicacies made from fresh, local ingredients. You can enjoy a wide variety of culinary delights, whether you love meat or prefer a vegetarian diet.
Warm hospitality
People in Crete are friendly to visitors, have a strong sense of community, and like to work hard but also know how to have fun and create memorable fiestas with their traditional instruments, music, and dance!
Great internet connectivity
Great internet connectivity
Crete offers high-speed internet in most places with many coworking spaces available, providing an excellent environment to work.
Convenient transportation
Convenient transportation
There are several options available for getting around the island making it easy to travel around and explore different parts.
Fascinating history and culture
Fascinating history and culture
The Cretan history dates back to ancient times and the island has several museums, archaeological sites, and intriguing cultural events to enjoy.
Digital Nomad Kits for Greece
Pay and take care of your needs as a Digital Nomad with our kit.
Pay and take care of your needs as a Digital Nomad with our kit.
Share your photos by using #guideforeigners
Whether you're interested in history, culture, nature, or simply want to work hard and enjoy your free time at the beach, Crete has something to offer to everyone!
Enjoy the stunning beaches
Crete is known for its beaches, with crystal-clear waters and sandy shores. The choices are endless! Some of the top ones are Falassarna, Elafonisi, Platanias, Balos, Vai, and the list goes on and on…
Take a tour at the Archaeological sites
Crete is home to several intriguing ancient sites, like the Palace of Knossos and the Palace of Faistos, where you will appreciate the wonders of the Minoan civilization, the ruins of the ancient city of Gortyna, the Ancient City Lissos and many more. There are many fascinating museums as well!
Hiking at the Samaria Gorge
The Samaria Gorge is a stunning natural wonder located in the White Mountains of Crete. Hiking through the gorge is a challenging but rewarding experience, with breathtaking views!
Visit the Arkadi Monastery
The Arkadi Monastery is a historic and cultural site located in Rethymno, that had an important role in the island's struggle for independence and is a symbol of Cretan identity and resilience.
Explore the Pottery Village of Margarites
A beautiful, traditional, and well-hidden village where you will admire the extraordinary architecture and the beauty of Cretan pottery.
Walk through Chania old town
One of the most beautiful places of Crete that will travel you back in time! The village combines Venetian and Ottoman architecture and the old harbor is a bustling hub of activity, with traditional fishing boats and restaurants serving up fresh seafood!
Visit the Beautiful Botanical Park of Crete in Chania
The park hosts amazing local flowers, trees, and herbs but also unique plants from different regions of the world.
Take a sailing tour
A definite must-do to enjoy the unbelievable scenery and turquoise waters, swim or snorkel, socialize, and create memories!
Available Kit to Establish a Company in Greece
Pay and establish your company easy and without a hassle.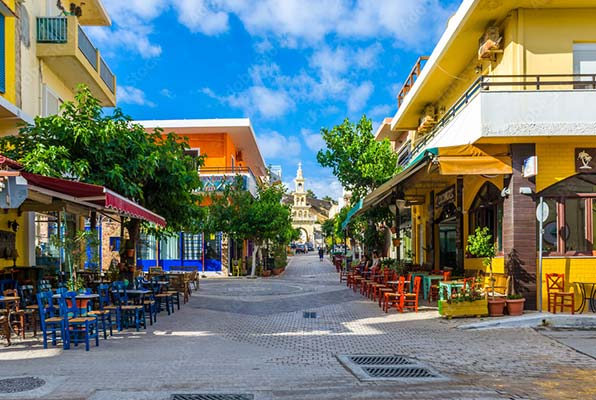 What we offer to our Partners in Crete
Greece offers a favorable business environment, offering several reasons why a digital nomad or a company might consider establishing a presence in Greece: 
10% discount on a number of places (bar restaurants, clubs, beach bars, discos, piano bars)
Quality-checked services (legal, rental, restaurants, etc.)
A Logo strip with each partner's logo and information.