By Kelly Kiakou
Sofia, the bustling capital city of Bulgaria, is a haven for digital nomads seeking a vibrant and dynamic work environment. Known for its captivating history and awe-inspiring architecture, Sofia has also gained recognition as a thriving hub for remote workers. As the number of digital nomads flocking to the city continues to grow, the demand for suitable workspaces, specifically laptop-friendly cafés with high-speed internet, has surged. Whether you're a freelancer, entrepreneur, or remote employee, we've meticulously curated a handpicked selection of Sofia's best cafés that cater to the needs of digital nomads. Prepare to discover a range of enticing establishments that offer the perfect blend of inspiring ambiance and reliable, fast internet connections, creating an ideal setting for your productivity and success as a digital nomad in Sofia.
1. Fabrika Daga: The Coolest Creative Hub in Sofia
Facebook | Instagram | https://fabrikadaga.bg/ | 10, Veslet 1000 Sofia Center, Bulgaria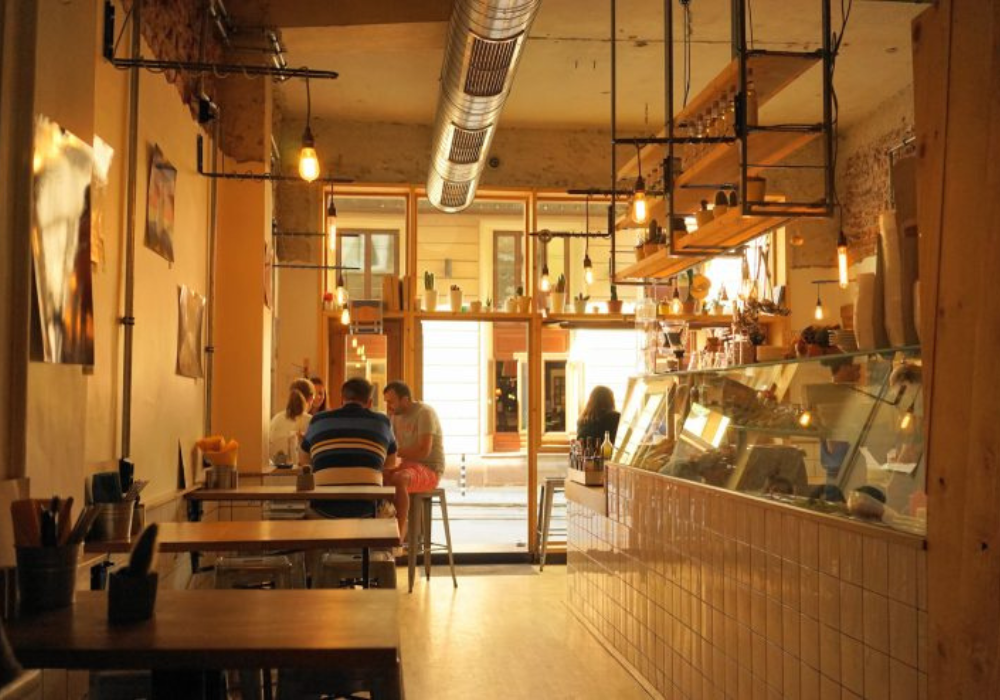 For digital nomads seeking a truly unique and creative workspace, Fabrika Daga is the place to be. This multifunctional café and coworking space is renowned for its artsy atmosphere and innovative design. The vibrant interior, adorned with colorful decor and cozy seating, sets the stage for productive work sessions. With a strong emphasis on community, Fabrika Daga hosts regular networking events, workshops, and exhibitions, providing opportunities to connect with fellow professionals. Enjoy their excellent coffee, refreshing beverages, and a range of snacks while immersing yourself in a vibrant and collaborative environment.
2. The Steps: Where Creativity Meets Productivity
Facebook | Instagram | https://thesteps.bg/en/ | 12, Bratya Miladinovi Sofia, Bulgaria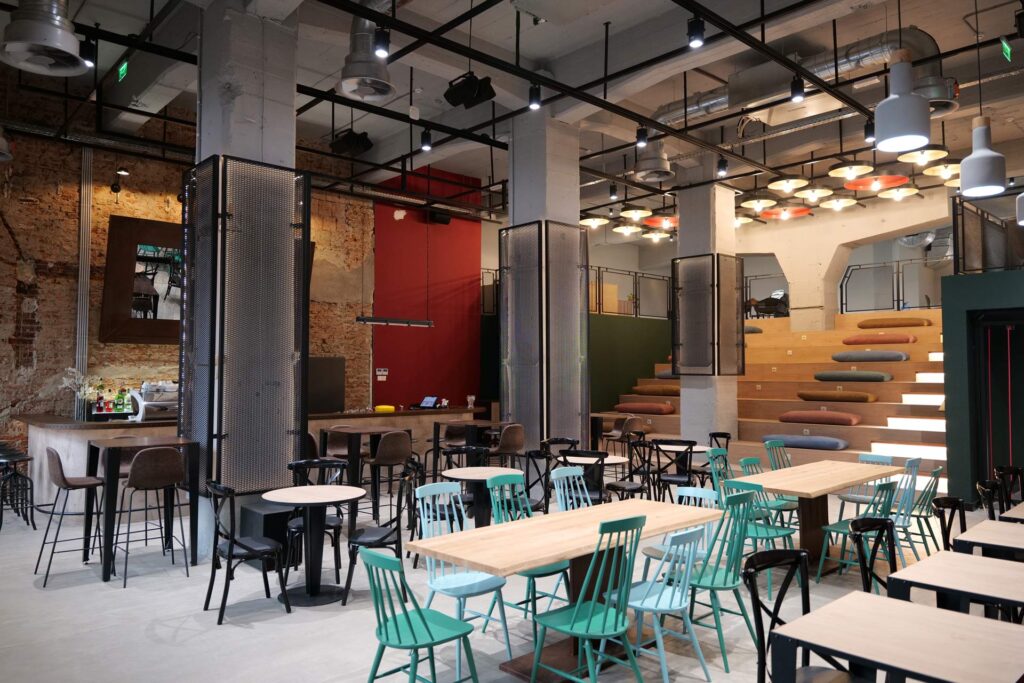 For those in search of a spacious and stimulating workspace, look no further than The Steps. Recently opened and designed with ample room and high ceilings, this café is a haven for events and coworking. With electricity plugs scattered throughout and a reliable Wi-Fi network, it ticks all the boxes for digital nomads. While the bar offers a selection of coffee and beverages, feel free to bring your own lunch. Notably, The Steps takes pride in its inclusive environment, making it a welcoming space for everyone, including the queer community.
3. SOHO Café & Restaurant: Where Work Meets Culinary Delights
Facebook | Instagram | https://www.soho-cafe.com/ | 69, Bulgaria Blvd, Bulgaria Mall, floor 3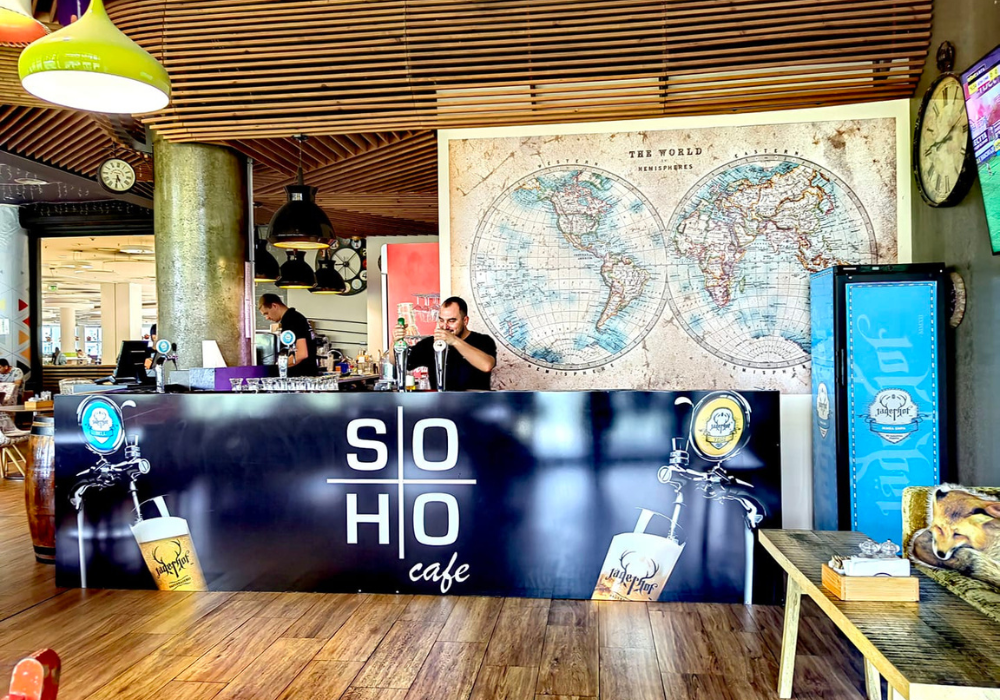 Combining the best of both worlds, SOHO Café & Restaurant offers an exceptional workspace coupled with an enticing culinary experience. Located in a trendy neighborhood, this café provides a modern and vibrant setting for digital nomads. The ample seating, including comfortable couches and communal tables, caters to various work preferences. With plentiful electricity sockets and reliable Wi-Fi, you can work seamlessly while savoring their delectable menu featuring a fusion of international cuisines. From breakfast delights to hearty lunches, SOHO has you covered.
4. Social Cafe Bar & Kitchen: A Hidden Gem on Vitosha
Facebook | Instagram | https://socialcafe.bg/ | 16, Vitosha Blvd. 1000 Sofia, Bulgaria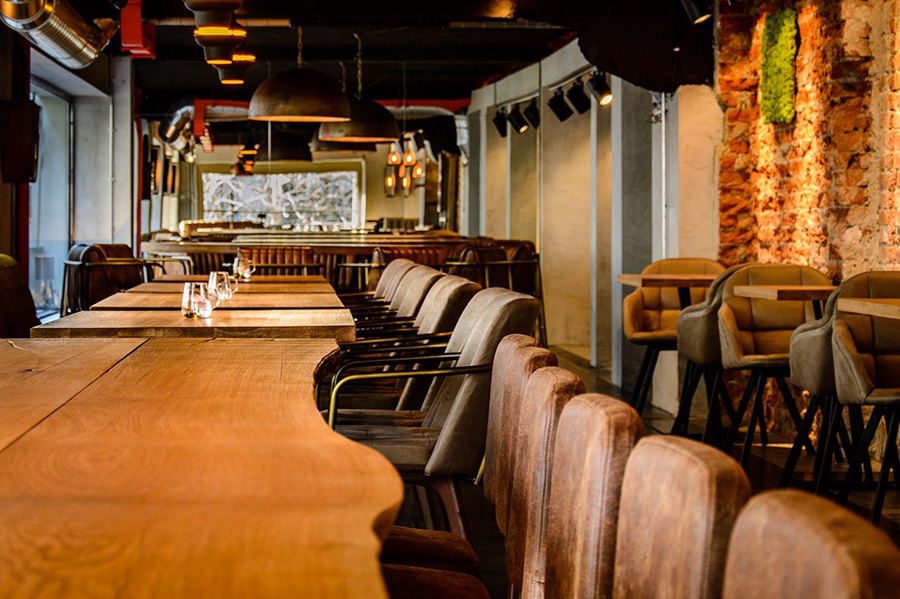 Tucked away on the vibrant Vitosha Street, Social Cafe Bar & Kitchen is a personal favorite for digital nomads seeking a cozy working environment. Despite appearing crowded from the outside, the interior and second floor of this café remains pleasantly quiet, making it an ideal spot for productivity. Offering a delectable menu and refreshing drinks, you'll find several seating areas conveniently located near electricity outlets. Plus, the Wi-Fi connection is flawless, ensuring a seamless working experience.
5. CRAFT: A Haven for Creatives and Productivity Enthusiasts
Facebook | http://www.craft-bistro.com/ | 53,Tsar Asen 1463 Sofia, Bulgaria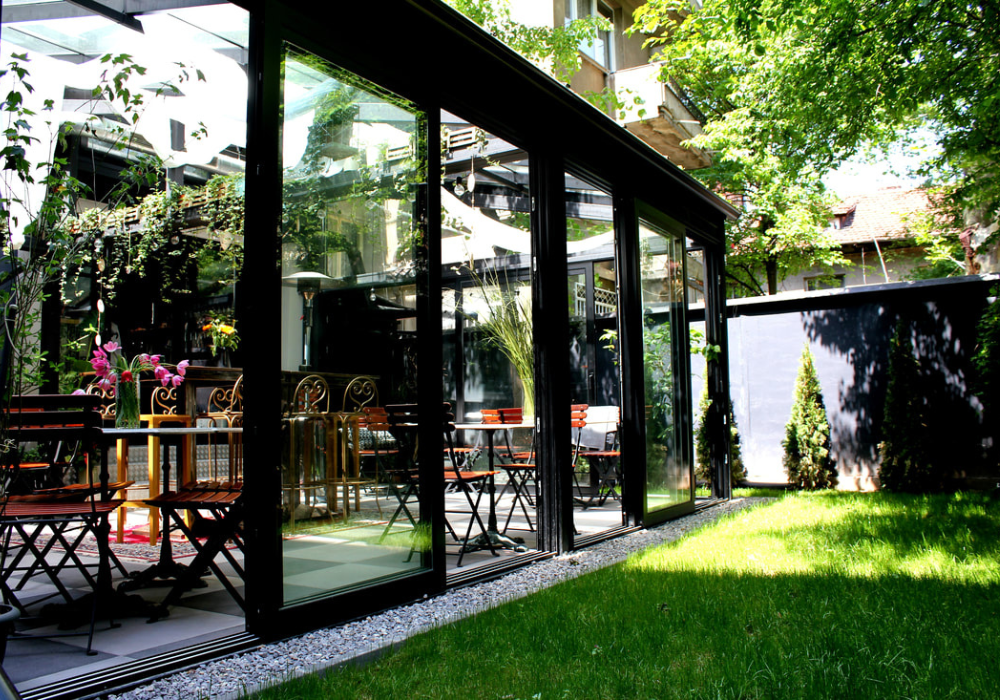 Cafe Craft stands out as a haven for creatives and digital nomads seeking an inspiring atmosphere. Nestled in Sofia's bustling city center, this café boasts a warm and inviting ambiance, making it the perfect spot to dive into your work. With an array of comfortable seating options and conveniently placed electrical outlets, you can settle in and let your creativity flow. Indulge in their delightful coffee creations and enjoy their delectable menu offerings while immersing yourself in a productive work session.
6. Coffee Fellows: Where Coffee, People-Watching, and Productivity Converge
Facebook | Instagram | https://coffee-fellows.com/ | 52, Vitosha Blvd. 1000 Sofia, Bulgaria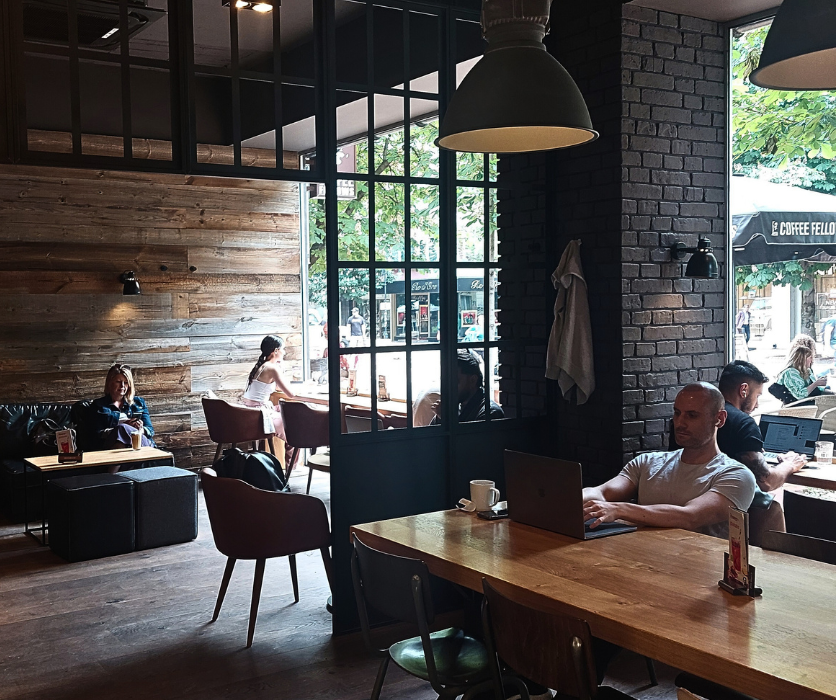 Situated on the vibrant Vitosha Street, Coffee Fellows provides an unbeatable experience for digital nomads. Offering comfortable seating areas accompanied by accessible electrical plugs, this café presents the perfect opportunity for both work and indulging in a favorite pastime: people-watching. Additionally, the coffee at Coffee Fellows is renowned for its excellence, and the convenient location ensures a wealth of lunch options in the vicinity.
7. Photosynthesis: Tranquility and Inspiration Combined
Facebook | Instagram | https://magazin.photosynthesis.bg/bg/ | 57, Vasil Levski Blvd. 1000 Sofia, Bulgaria
Escape the hustle and bustle of Sofia by retreating to the second-floor café area of Photosynthesis. With its serene ambiance, abundant electric sockets, and generous natural light, it provides an ideal setting for focused work sessions. Furthermore, the establishment frequently showcases diverse art exhibitions, adding an extra touch of inspiration to your surroundings.
8. Literature Club Peroto: A Reliable Haven for Study and Work
Facebook | Instagram | 1, Bulgaria Blvd. 1421 Ndk, Sofia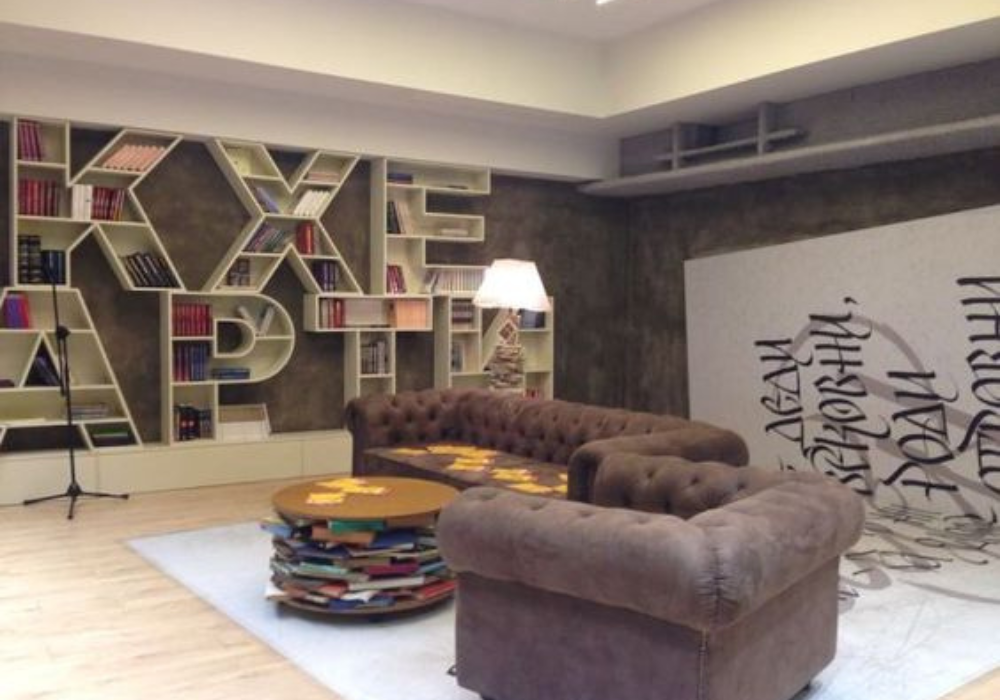 Despite occasionally bustling with students and hosting events, Literature Club Peroto offers ample seating and is a reliable choice for digital nomads. Although not every spot is equipped with electrical outlets, there are still plenty available to meet your needs. This café serves as an ideal location for several hours of focused work, though it may not be suitable for an entire day's work.
9. Barista Coffee & More: A Laptop-Friendly Classic
Facebook | Instagram | https://www.baristacoffeesofia.com/ | 26-30, Bacho Kiro 1000 Sofia, Bulgaria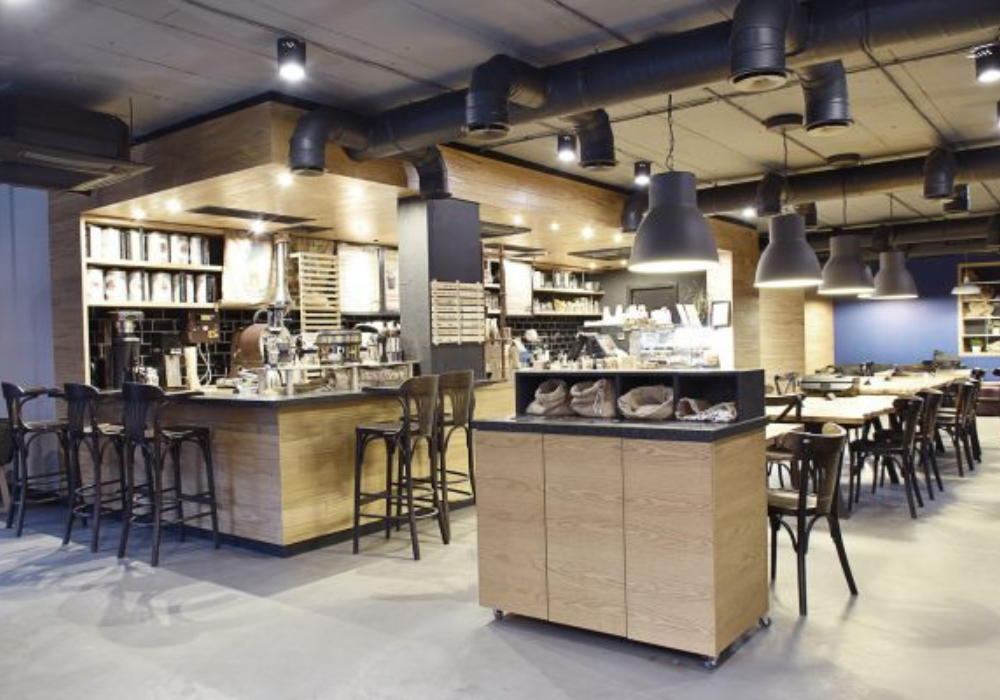 A longstanding favorite among digital nomads, Barista Coffee & More has earned its spot on the laptop-friendly café list. This venue boasts numerous electrical outlets, ensuring you'll never run out of power. While it may be a bit livelier than other cafes on this list, it remains a solid option for a few hours of productive work. Indulge in their excellent coffee and enjoy a selection of small snacks to keep your energy levels up.
Finding the perfect café with a high-speed internet connection is crucial for digital nomads looking to work remotely in Sofia. Whether you prefer a creative hub, a traditional café, or a trendy workspace, Sofia offers a wide range of options to suit every digital nomad's needs. So, grab your laptop, head to one of these cafés, and make the most of your digital nomad journey in Sofia.
If you want to discover the benefits of living in Sofia as a digital nomad and uncover the secrets to thriving in this dynamic city, visit our website. Our valuable insights and resources will guide you toward embracing the digital nomad lifestyle in Sofia and help you unlock its countless advantages. Explore further to unveil the opportunities that await you in this exciting destination!
Source: https://travellingbuzz.com/8-central-cafes-to-work-from-in-sofia/